Skatemill is unique element of WINNER Sports & Leisure center. It is a practice utility machine for ice hockey professional players improving their skating techniques. It also helps beginners or hobby players to learn and absorb right skating technique. You can build correct motional habits, improve technique and training effectivity, get rid of bad habits and learn how to avoid injuries.
What is the specialization of Skatemill utility machine?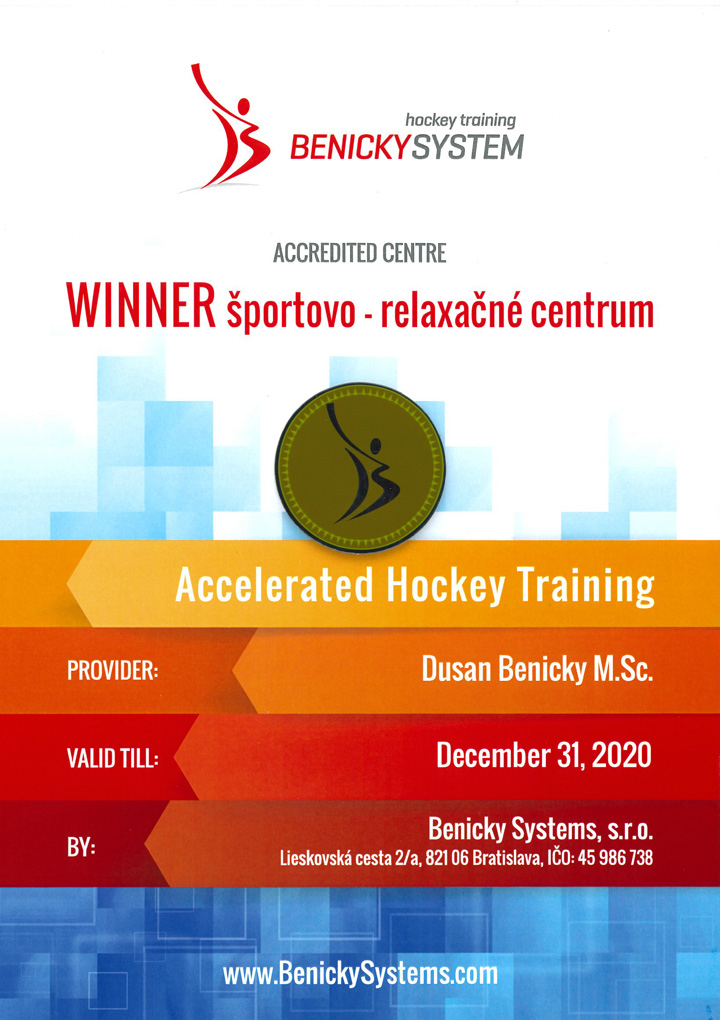 Benicky Skatemill (in cooperation with other elements of functional training process) ensures that player will:
Increase his maximum speed, acceleration and effectivity of skating technique
Have functional body stability, increased puck defense, better balance and higher quality of puck maneuvers
Acquire precise puck work, passing, shooting, receiving of passed puck, correct stick carrying and stick work
Get better coordination and integration of group player thinking
Prevent groin injuries. Those often occur as a consequence of a wrong skating technique.
Have effective rehabilitation of injuries and quicker comeback to play
Avoid potential injuries thanks to better technique of key ice skating abilities
Do you have any questions? Please do not hesitate to contact us via contact form. We are happy to answer your questions.
Interested in arranging your training program on Skatemill? Call us 0908 778 711 or mail us skatemill@winner.sk.
Reservations: 0908 778 711
Who is SKATEMILL designed for?
It's great for adults as well as for kids, for hockey players or for amateurs, for both professionals and beginners.
WE OFFER INDIVIDUAL TRAINING, which respects sportsman's needs. This way it contributes to decreasing of injury risk and speeds up skater's achievement.
What do we offer within one training session?
Individual attitude during whole training session
Analysis of your performance - available at your request. You can choose to get your ice skating performance recorded on high speed camera recorder. It helps to record and evaluate movements if required.
We can also arrange further cooperation with our qualified trainers:
Movement abilities assessment and diagnostics
Exercises for muscle imbalance compensation
Functional strengthening
Releasing and stretching of exhausted muscle groups
Creation of individual training program
For more information contact our RECEPCION.